Tower Garden
Tower Garden HOME Unit with Support Cage Bundle
The HOME Tower with Support Cage Bundle is a great way to grow your own food in a small outdoor space. The support cage helps your plants grow tall and strong, and the bundle saves you $10 off the regular price of the Tower Garden and Support Cage. *From December 6, 2023 to January 3, 2024 save an additional $10 with our Seasonal Special, for a total of $20 savings!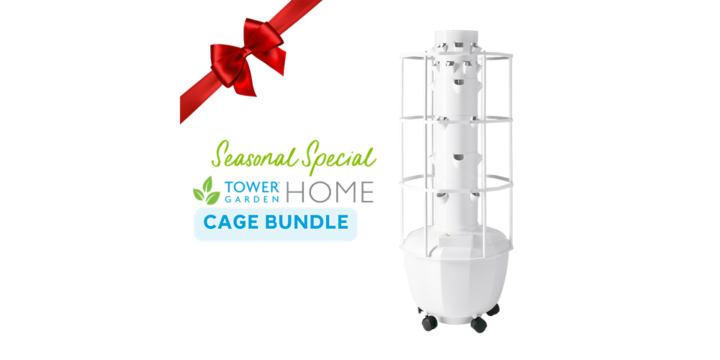 Ideal for Outdoor Growing

Sustainable & Earth-Friendly
---
What's Included

Seedling Starter Kit (includes: germination tray, rockwool cubes, vermiculite, net pots, and a variety of seeds for leafy greens, lettuces and herbs) 
4 standard grow pots  
2 baby greens grow pots  
Pump, timer, drain tube and water monitor 
Tower Garden Mineral Blend plant food (1 liter of each) and measuring cup 
pH test kit ** (Not available in PR, HI or AK due to shipping restrictions) 
Wheels 
Product Details
Made from high-quality, USDA-approved, UV-stabilized, food-grade plastic.
Dimensions: 58"x 24" x 24" inches.

California residents: Click here for Proposition 65 WARNING.

Shipping
Shipping included
Additional shipping required for HI and PR. 

Warranty
We offer an easy five-year limited warranty on the Core Plastic Components, we will repair or replace any defective original core plastic component, which are the Nutrient Reservoir, Reservoir Lid, Access Port Lid, Tower Sections, Shower Cap and Shower Cap Lid. There is also a five-year limited warranty on the pump.  All other components are covered by a one year warranty.
We at Tower Garden value you as a customer, your satisfaction is our top priority. If you are not 100% satisfied with your Tower Garden for any reason, we will gladly accept returns within 90 days of the sale date for a refund, minus a $75.00 return fee.
Have questions about the warranty? Send us a message »