Vegetarian Lasagna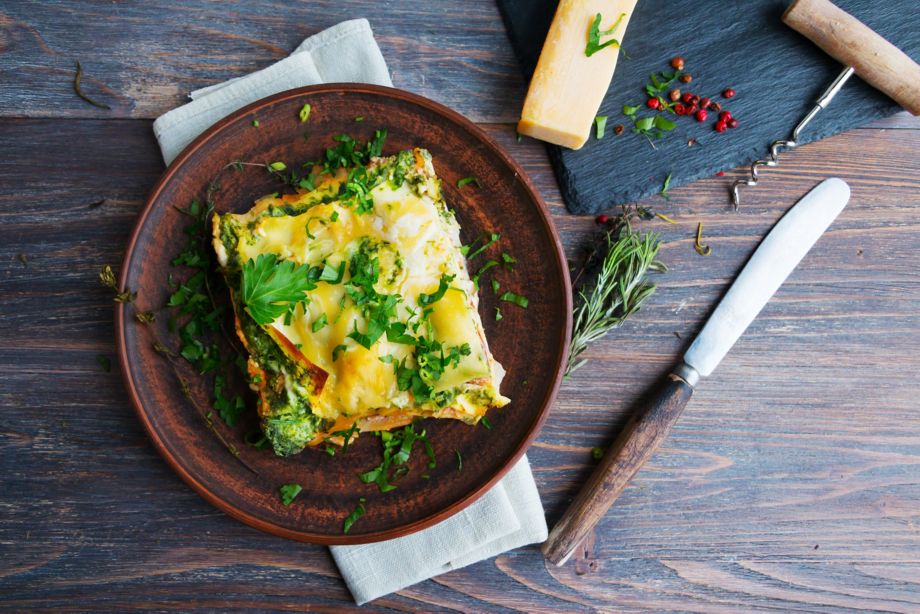 Serves: 8 | Prep time: 25 minutes | Cook time: 45 minutes
Ingredients:
Sauce Mixture:
24 oz. pasta sauce
1 medium zucchini, thinly sliced
1 large bunch kale, chopped
8 oz. white button mushrooms, chopped
1 onion, diced
1 clove garlic, minced
1 tsp. salt
1/2 tsp. black pepper
2 Tbsp. olive oil

Cheese Mixture:
1 egg, beaten
16 oz cottage cheese

120g mozzarella cheese, shredded 
20g Parmesan cheese, shredded 
1 Tbsp. fresh parsley, chopped
Lasagna pasta
Instructions:
Soak lasagna pasta in hot water while you prep the rest of the ingredients. Set the oven to 375˚F, and heat olive oil in a stockpot over medium heat.

Add onion and garlic, and sauté 5-7 minutes. Add mushrooms, zucchini, kale, salt, and black pepper, and cook until the kale wilts.

Stir in pasta sauce, bring to a boil, and remove from heat. In a medium bowl, mix egg, cottage cheese, Parmesan cheese, parsley, and 1/4 cup of mozzarella cheese.

Drain pasta and place evenly in the dish. Cover with the cheese mixture, sauce mixture, and half the remaining mozzarella cheese — in that order.
Add another layer of pasta, and repeat the step above. Cook covered in the oven for 30 minutes. Then uncover and cook for 15 minutes longer.
Recipe Credit: Logan Nickleson