Tuscan Bean-Kale Soup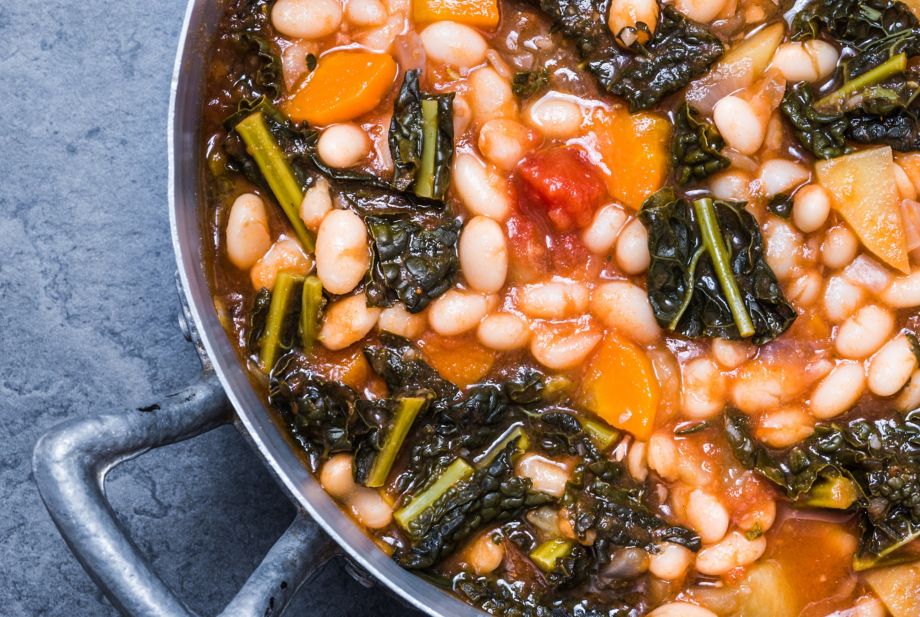 Serves: 4 | Prep time: 20 minutes | Cook time: 1 hour 20 minutes

Ingredients:
2 large tomatoes, quartered
1/2 small butternut squash, peeled, seeded, and cut lengthwise into 1/2-inch thick wedges
4 cups kale, finely chopped
3 large fresh thyme sprigs
1 bay leaf
Nonstick vegetable oil spray
3 carrots, peeled and quartered
1 large onion, cut into 8 wedges
6 garlic cloves, unpeeled
1 Tbsp. olive oil
6 cups vegetable broth
15 oz. great northern beans, drained

Instructions:
Preheat oven to 400°F. Spray a rimmed baking sheet with oil spray. Arrange carrots, tomatoes, onion, squash and garlic on sheet. Drizzle with olive oil. Sprinkle with salt and pepper. Toss to coat. Bake until vegetables are brown and tender, stirring occasionally, about 45 minutes.
Transfer carrots and squash to work surface. Cut into 1/2-inch pieces and set aside. Peel garlic cloves and place in processor with tomatoes and onion, and purée until almost smooth. Pour 1/2 cup broth onto baking sheet, and scrape up any browned bits. Transfer broth and vegetable purée to large pot. Add 5 1/2 cups broth, kale, thyme and bay leaf to pot, and bring to boil. Reduce heat, and simmer uncovered until the kale is tender (about 30 minutes).

Add beans, carrots and squash to soup. Simmer for 8 minutes to blend flavors. Season with salt and pepper. Discard thyme sprigs and bay leaf.

Recipe Credit: Nancy Kroupa