Slow Cooker Vegetable Soup
Slow Cooker Vegetable Soup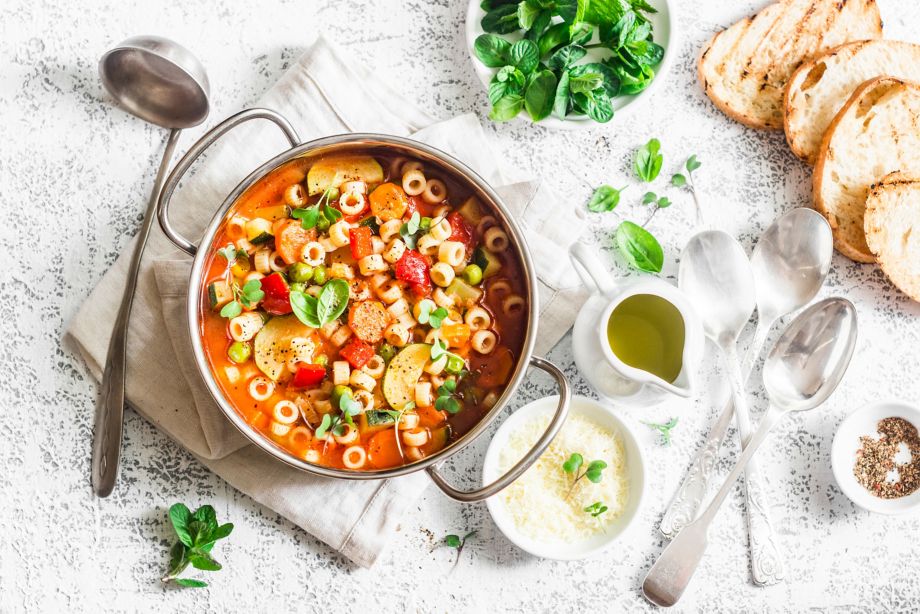 Serves: 8 | Prep time: 20 minutes | Cook time: 10 hours

Ingredients:
1 1/2 tsp. fresh rosemary
1 1/2 tsp. fresh thyme
1 1/2 tsp. fresh marjoram
1 Tbsp. fresh basil
2 qt. (8 cups) vegetable stock
2 lb. tomatoes, peeled and chopped
3 carrots, peeled, sliced
2 stalks celery, sliced
1.5 lb. red potatoes, peeled and cubed
1 sweet onion, chopped
2 cloves garlic, minced
1 Tbsp. sugar
2 tsp. salt, or to taste
1/2 tsp. pepper
2 bay leaves
2 cups of corn
1 zucchini, sliced and quartered
1 cup of peas
2 cups of green beans
1/2 cup uncooked pasta

Instructions:
Combine broth, tomatoes, carrots, celery, potatoes, onion, thyme, garlic, sugar, salt, pepper, herbs and bay leaf in a large crock pot. Stir well. Cover and cook on low in the crock pot for 7-8 hours.
Add corn, zucchini, peas and green beans. Stir well, cover and continue cooking on high for 90 minutes.

Add the pasta, cover and cook for another 30 minutes. Remove the bay leaf and serve.

Recipe Credit: Linda Seyller-Dolder