Garden Year-Round with LED Indoor Grow Lights
For most gardeners, the growing window typically ends when the colder weather starts rolling through. Sure, planting some cool weather crops will extend the growing season slightly longer, but that will end once temperatures drop too low.
Fortunately, with Tower Garden, gardeners can grow delicious fruits, nutritious vegetables, and beautiful flowers all year round. The powerful LED Indoor Grow Lights, designed specifically for Tower Garden, allow growers to enjoy a thriving garden from the comfort of home, year-round.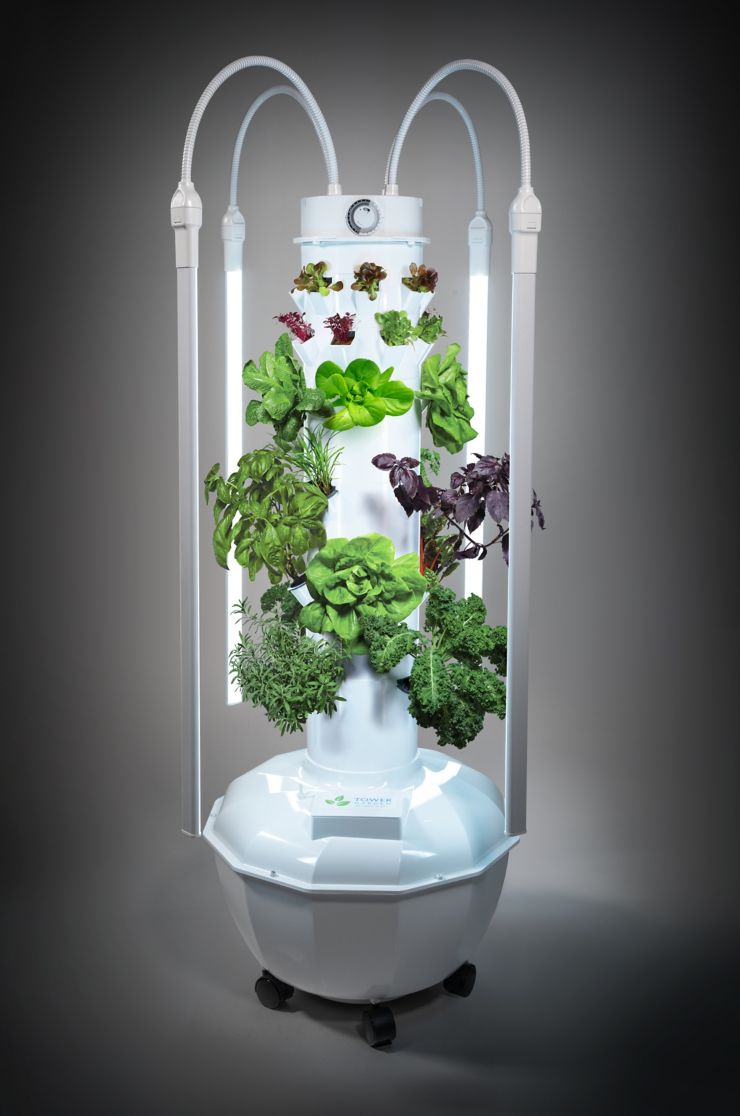 The Importance of LED Indoor Grow Lights
For indoor gardening, lighting is absolutely crucial. Without adequate light, your plants will grow tall, thin, and weak — if they manage to grow at all. Even when grown next to a sunny south-facing window, most crops will struggle. LED Indoor Grow Lights solve this issue by providing plants with a light spectrum similar to that of the sun, thus mimicking the lighting it would typically receive outdoors.
Tower Garden LED Indoor Grow Lights can be purchased as an optional add-on making it easy to get growing indoors - and with easy installation, these can be attached and ready for use in minutes.
Not only do Tower Garden LED Indoor Grow Lights allow gardeners to grow indoors year-round, they're also great for starting seeds and growing greens, herbs, and other plants with low to medium light requirements.
More on LED Indoor Grow Lights
Besides helping you grow your own fresh, nutrient-rich food year-round, using Tower Garden with LED Indoor Grow Lights lets you:
Reduce energy costs. LED bulbs save up to 40% more energy and last up to 50,000 hours.* (So you won't be replacing them anytime soon.)
Install and use with ease. Shipped with only six pieces and a single power cable, the lighting system is self-contained and simple to set up for Tower Gardeners who purchased LED Indoor Grow Lights separately.
Adjust light position, as needed. Flexible arms allow you to move lamps to effortlessly harvest, clean, and provide plants with adequate light, whether they're tiny seedlings or large, mature plants.

Other Tower Gardeners using our LED Indoor Grow Lights have also experienced positive results, such as denser, darker, and faster plant growth.
*For the technically inclined, here are a few key product specifications:
Working temperature = less than 104ºF (40ºC)
Maximum power consumption = 125 watts
Input voltage = 120VAC, 50/60Hz
Average utility cost per month = $6.00, per energy.gov

Color temperature = 6000K (crystal white light)
Best Plants to Grow Indoors
Tower Garden LED Indoor Grow Lights facilitate lush, compact vegetative plant growth. This is ideal for greens and herbs, but not necessarily fruiting plants. We recommend growing the following plant varieties indoors with the help of grow lights:
Arugula

Broccoli
Broccoli raab
Brussels sprouts
Cabbage
Chinese cabbage
Cauliflower
Collards
Endive
Escarole
Leeks
Mesclun varieties
Pak choi
Radicchio
Sorrel
Spinach
Get more info about some of the most popular crops to grow indoors with Tower Garden.

What Will You Grow with Tower Garden?
We love to see what our community is growing. Share your photos on Instagram with the hashtag #TowerGarden for a chance to be featured on our page!